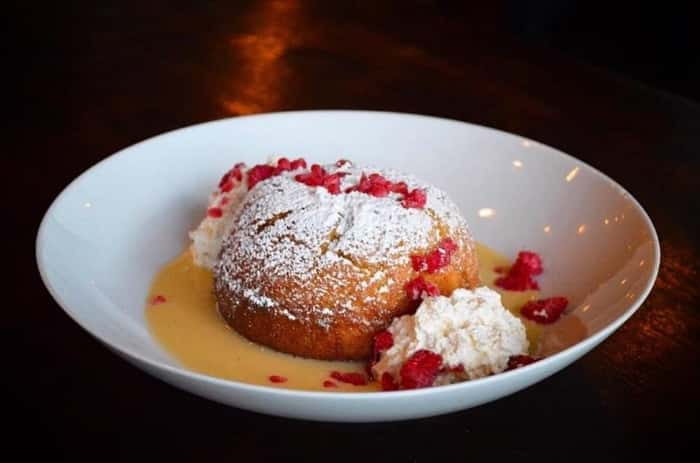 Arizona Restaurant Week is back, and we're happy to announce that we will be participating in this season's week-long culinary event. Happening September 15 through 24, this culinary showcase puts some of Arizona's top foodie talent on display. Our own Chef Fowler and his back-of-house team will be cooking up some of our most iconic dishes for this special event, which will be available on our three course, $44 prix fixe menu.
Starter
EVO Salad
While salads aren't typically the stars of the show when it comes to Italian dining, our EVO Salad is the exception to the rule. A crowd favorite, this iconic salad features crispy Brussels sprouts, dried kale, pancetta, pears, goat cheese and is finished with a drizzle of savory balsamic.
Entree
Squid Ink Chitarra
A medley of robust and bold flavors, our Squid Ink Chitarra is a classic entree that never ceases to appease the palate. This dish is comprised of shrimp, mussels and calamari, as well as ingredients that bring flavor to the forefront including scallions, saffron butter and Calabrian chile.
Dessert
Brown Butter Baby Cake
Carefully baked to order, our Brown Butter Baby Cake makes a fine finale to any meal enjoyed at EVO. Prepared with vanilla creme anglaise and topped with chantilly and fresh red raspberries, this dessert worth-sharing is a sweet conclusion to a hearty Italian meal.
Arizona Restaurant Week brings together a variety of diverse culinary menus from across the central and southern areas of the state of Arizona. Its mission is to position Arizona as one of the top culinary destinations in the country by increasing the awareness of the plethora of dining opportunities and talent local chefs and restaurateurs throughout the region.
We sincerely look forward to serving you!
View our entire menu Arizona Restaurant Week menu here.
Like EVO on Facebook: EVO
Follow EVO on Instagram: @evoscottsdale