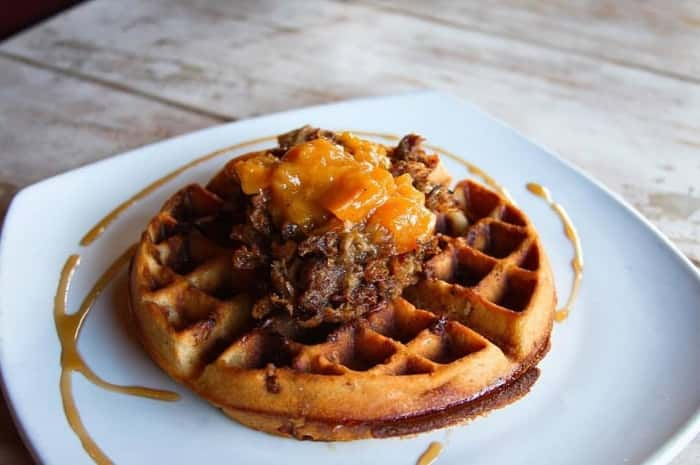 Each Sunday we turn your typical brunch upside down with our Brunch After Dark. At EVO, we're open late. Our kitchen is open until 1:30am for your brunching pleasure. And just because it's dark out shouldn't mean you can't get your favorite brunch standbys. These are our favorites.
Pork & Waffles
Move over chicken and waffles, there's a new favorite in town. Vanilla-braised pork belly is layered atop fluffy brown butter pecan waffles to make this dish. This brunch favorite is drizzled with a sweet bourbon maple syrup and piled high with peach chutney. Is it dessert? Is it brunch? Whatever it is, it's delicious.
EVO-Cristo
Crunchy peanut butter, banana marshmallow fluff and house jam come together between two slices of country white bread to make this brunch staple. It's our take on the traditional Monte Cristo, with a few tasty changes, of course. And that sweet sticky stuff? That's the bourbon maple syrup.
Breakfast Pizza
Pizza is a good choice. No matter what time of day, which is why this Brunch After Dark dish is one of our favorites. Our breakfast pizza combines roasted tomatoes, dressed arugula, crispy fingerling potatoes and Arizona farm eggs which makes for a sharable, late night snack.
Caprese Benedict
This dish is our take on the classic eggs benedict with an Italian-inspired, EVO-twist. Two farm eggs are placed atop of buttermilk biscuits layered with crispy pancetta, tomato jam, basil, mozzarella and of course, hollandaise.
Pancake Fried Bacon Strips
Because everything is better fried. Fill up on our pancake fried bacon strips, made with house cured pork belly, pancake batter and sweet, sweet bourbon maple syrup. Add an egg to your order round out this brunch dish. All of our local eggs are served poached.
View the Brunch After Dark menu here.
Like EVO on Facebook: EVO
Follow EVO on Instagram: @evoscottsdale